Instagram has become one of the most popular social media apps for most of us, and if you're one of us who loves to scroll through your Instagram feed, post photos and videos then you might be surprised to know that there are plenty of things you can do on Instagram!
If you want to try something new, then these useful tips and tricks will help you discover cool things to do on Instagram. Let's get started!
01. Hide/Remove Tags of Yourself From Photos on Instagram
Do you always find yourself tagged in unflattering photos or unwanted memes? Fortunately, there are two ways to get over this situation.
Choose the photo and click on it to select your username. You will see two options appear: "Remove Me From Post" and "Hide From Profile". The "Remove Me From Post" option removes the tag completely. But, if you don't want to remove it entirely, then you can still hide it from the tagged photos section of your profile, by using the "Hide From Profile" option instead.
You can also go to your profile and click the tag icon to see all the pictures you have been tagged in and untag yourself from the pictures you don't want to be in.
02. Clear Your Instagram Search History
Do you desire to clear all your search history on Instagram? Surely, you can!
Click on the 'Settings' option [three dots (⋮) on Android and the gear icon on iPhone/iPad] to clear your Instagram search history. Then, tap on the 'Security' option which will move you to a screen that says "Clear Search History" at the bottom. Select this option to empty your history section (as shown below).
Step 01
Step 02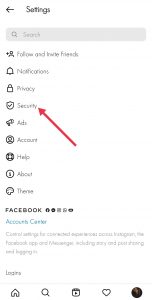 Step 03
Step 04
03. Make Instagram Consume Less Data
Whenever you open Instagram, it automatically preloads photos and videos leading to quickly exhausting your data.
In order to limit the data usage that Instagram uses, you should go to your profile, choose the three bars (⋮) in the top-right corner then select the 'Settings' option, click on 'Account' and then on the 'Cellular Data Use'. Toggle 'Data Saver' mode on (as shown below). Post this, you might find that photos and videos take longer to load, and your overall data use will reduce significantly.
Step 01
Step 02
Step 03
04. Learn How to Create Collages/Layouts on Instagram
Instagram has a linked app known as 'Layout' (available for Android and iPhone users) which allows you to make collages. Then, you can upload them on Instagram as well as on other social media platforms. Either you can access 'Layout' through its own app, or link to it through your Instagram by tapping the 'Collage' button when choosing an image to edit.
05. Easily Manage Comments on Instagram
Do you wish to get rid of inappropriate or rude comments appearing on your posts? Instead of deleting each comment individually, you can filter out them automatically by Instagram.
To Filter Comments by Keyword
In Instagram, head to 'Options' then choose the 'Comments' option. After this, switch on the 'Hide Inappropriate Comments' button. You can even enter certain keywords that you would like Instagram to inspect within each comment.
To Delete Comments
Click on the 'Speech Bubble' icon below the comment you want to delete, then swipe to the leftover text. Tap on the 'Dustbin' icon to delete it.
To Disable Comments Completely
This feature helps you disable the comments for individual posts (not across your entire profile).
How to do so?
If you want to post a photo on which you would prefer no one to comment. Then, when you reach the page to add a caption, hashtags, and location, click on 'Advanced Settings' at the bottom. And just switch on the 'Turn Off Commenting' option. You are all done!
06. How to Hide Your Instagram Stories?
Isn't it great that you can hide your Instagram stories from anyone when you don't want them to see them?
But, how to use this feature?
Head to the three bars (⋮) on your profile and click on Settings > Privacy > Story. Tapping on zero people below the 'Hide Story From' option brings to you a list of people where you can select the unwanted story-watchers.
07. How to Mute Stories From Specific Users on Instagram
It can get too irritating when someone you follow keeps on posting stories. In such a case, you can opt to mute them by going to your story feed and holding down that user's icon. A menu will pop up, then click on Mute > Mute Story.
Don't worry, they won't get any notification that you have muted the stories from them.
08. How to Archive/Hide Unwanted Instagram Posts From Your Profile
Want to remove a particular post from your profile, then archive it instead. To do this, select the post you want to archive, and from your Instagram options in the top-right of the screen, click on the 'Archive' option.
Step 01
Step 02
This feature doesn't delete your posts entirely, instead, whenever you want to see the archived posts, you can go to the three bars (⋮) on the top-right of your profile. Click on 'Archive', and then tap on 'Posts' from the dropdown menu on the top of the screen to view the image you have archived.
09. How to Edit Cover Image On Your Instagram Highlights & Reels
Figuring out how to edit or change the cover image of your Instagram Highlights and Reels when you are about to post it. Here's the trick:
Story Highlights
Keep your stories on your profile for more than 24 hours, add them to 'Highlights'. And, to add a cover image to it, click on 'Edit Highlight', select the image you want to add, then tap 'Done' on the top-right corner of the screen.
Reels
You can either:
Choose a frame from your Reels.
To do so, choose a frame from the reel video to set as a cover image, then slide over the frame bar at the bottom to select the frames available which are inside the video.
Once you have finalised which frame you want to set as the cover image, click on the frame, and check the preview image at the top to view how it looks. If it's good to go, tap 'Done' on the top-right corner, then hit the 'Share' button to upload your Reels video.
or
Select a picture to upload as cover.
You can upload a separate image as a cover image that users will see before clicking on your Reel. To do that, head to the cover section of your Reels video, click on the 'Cover Box' inside the 'Share' screen. Scroll down to tap on the 'Add from Gallery' option at the bottom. Then select an image from your phone gallery and tap 'Done'.
If you want to adjust your Reel Cover Image perfectly on your profile, then this hack is just for you! Follow these steps:
Step 01
Step 02
Step 03
10. Optimise Your Profile To Increase Visibility By Using Relevant Hashtags
One of the best ways to optimise your profile is by using relevant hashtags in the bio. It can make the profile more discoverable when someone is searching for some hashtag using the "Search" option.
81% of Instagram users report using it to search for products and services.
To take advantage of this, you can also use relevant keywords (that conveys what your profile is all about) in your 'Instagram Name and Bio' to promote your profile.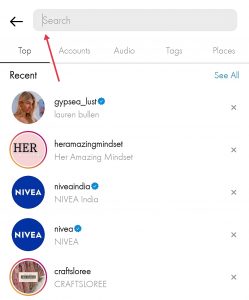 For example, if Julie Dane, a content writer and marketing consultant might consider making her Instagram profile name 'Julie Dane Marketing', instead of 'Julie Dane'. Accordingly, she can revise her bio by including all of her specialities, such as 'SEO Expert', 'Blogging', 'Email Marketing', etc.
If you have any questions, feel free to comment down. Also, if you are looking at what kind of posts will help boost your followers and engagement on social media, then make sure to check out: 15 Posts Ideas You Need To Try! (Updated 2020-21)