If you're looking at building brand reputation, generating leads, boosting sales, and increasing website traffic then it would be right to state that social media does it all!
As of 2021, 3.78 billion people use social media platforms, proving it's a powerful medium to build communities and grow businesses.
How is that done?
It's quite simple actually – carefully plan and execute posts that are engaging and addictive that also resonate with your audience.
Which brings us to the next question: what kind of content should you publish to engage and build a community on social media that'll, in turn, boost your business' presence?
Don't worry, we've got you covered!
Here are 15 posts ideas that you should experiment with on Instagram, Facebook, Twitter, YouTube, Pinterest, and LinkedIn in 2021.
Let's get started!
01. How-to Videos
A how-to video explains to viewers how to complete a task in a logical order clearly and concisely. It uses visuals and audio instructions to communicate the whole procedure.
On YouTube, how-to videos earn the most attention compared to any content category as 72% of people prefer to learn about a product or service through a video.
The main reason for its popularity is that it's visually engaging. Also, people prefer watching, rather than reading and, when a piece of content answers your need, teaches you how to do something that you're eager to learn then it automatically leads to engagement.
For eg., This short and sweet video by a style influencer @PreviewPH on Instagram demonstrates three ways to style a blazer. This video is great for those who are interested in experimenting with their fashion but don't know exactly how to style it.
How do how-to videos benefit your brand?
It helps to broaden your marketing reach by getting more clicks on the video. Resulting in brand awareness.
How-to videos let buyers know the exact purpose and utility of your products or services. It increases the chances of potential buyers choosing your brand over your competitors. This leads to an increase in sales.
Providing your existing customers with helpful and relevant content can increase their brand loyalty and also increase the probability of repeat purchases.
Works Best On: Instagram, Facebook, Twitter, LinkedIn, YouTube.
02. Instagram Reels
It's only fair to say that Instagram reels play an important role in your marketing strategy, considering the one billion monthly active users on Instagram who have embraced it.
Instagram Reels are short engaging videos ranging from three seconds to a minute with text, music, stickers, and other special effects.
Unlike Instagram Stories, reels don't disappear after 24 hours. It can be posted under the 'Reels' section on your account and be added to your feed as well.
Many businesses are already using this feature to ace their Instagram game – gaining better audience engagement, greater brand awareness, and the potential to make their content even go viral.
For eg. In this Instagram Reel, @elfcosmetics has emphasized the benefits of their Luminous Putty Primer and cleverly listed them in pointers in the caption using emojis to highlight them.

Leveraging reels help your brand:
Get the audience's attention quickly and keep them engaged.
Educating your audience by getting your message across fast.
Invite prospects that lead to building connections with your brand by showcasing your business's personality and values.
So, it's definitely worth a shot to boost your business.
Works Best On: Instagram.
*You can also post Instagram Reels, in the form of Facebook Stories and YouTube Shorts.*
03. Video Testimonials
You can either write down the testimonies and post them on your website or create a post to publish on social media. But a video testimonial is a better, even more, powerful mechanism to convey positive brand sentiment.
What exactly is a video testimonial?
A video testimonial is a review video by a customer who has used your product or service. In this, the customer talks about your product, explains his experience, and shares his views. It is visually engaging and does a great job of persuading people to take action.
In a recent study, 85% of consumers look for reviews before making a purchase. Hence, a video testimonial is impactful, improves brand awareness and engagement, and can serve as a great social proof for the users to urge them to take the desired action.
There are numerous significant benefits of customer testimonial videos:
One of the biggest reasons you should go for 'Video Testimonial' is to boost credibility and trust. Your potential audience is more likely to believe when they see their peers talking about your products and/or services that can help them convert into your customers.
A video captures the facial expressions and tone that bonds with your audience's thoughts, while a written testimonial fails to do so. This adds authenticity to the video, which in turn helps your customers build an emotional connection with the brand.
Works Best On: Instagram, Facebook, Twitter, LinkedIn, YouTube.
04. Influencers Product Displays
Have you ever noticed when an influencer (well-known athletes, celebrities, idols, or an individual with a huge following on social media) posts a picture with a certain product? It gains attention from their followers making them curious to check out the specific product.
For eg., Louis Vuitton has introduced the world's popular boy band 'BTS' as their brand ambassador for their new collection. This was such a successful strategy that the sunglasses (worn by JHope and RM) were out of stock within 72 hours.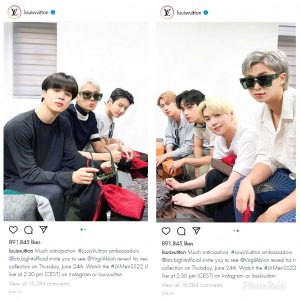 Consumers crave for a personalised experience, value, and want to connect with your brand, so, to get their trust – an affirmation of your products from influencers who your audience would believe can help with benefits such as:
Most influencers in social networks have millions of viewers. Choosing with whom you want to partner, whose niche suits your products and/or services will help to bring an excellent opportunity for you to approach millions of potential consumers.
The influencers are experts in their field. That's the reason many people follow them and trust their opinions and recommendations. Their confirmation of your products/services will help to enhance credibility and trust in your brand.
It has been found that 49% of consumers make quick purchases depending on their favourite influencer recommendations of a specific product and/or service, leading to an increase in sales.
Therefore, leveraging influencers to market your products is a great way to drive brand messages to your target audiences.
Works Best On: Instagram, Facebook, LinkedIn, YouTube.
05. List Infographics
We can see infographics being shared all over social media. If you want to share a list of tips, hacks, resources, examples, etc. with your audience then a List Infographic is the best option!
List Infographics have gained a lot of popularity in recent years, as they are designed to provide large amounts of data in a bite-sized package. It is highly effective as it helps the users to easily digest the information at first glance.
For eg., This is a simple yet visually attractive infographic that conveys the process of how you should plan an infographic design using these nine steps.
Here are some benefits of using list infographics:
Our brains process information better when presented to us in visual format than in text. Therefore, it makes sense why a well-designed infographic is one of the best ways to increase engagement.
List Infographics are shareable and great to portray information in the best visual format. Hence, in the last four years, there has been a 67% increase in infographics usage among marketers.
Works Best On: Instagram, Facebook, LinkedIn, Twitter, Pinterest.
06. 'Would You Rather' Polls
This is one of the simplest forms of content, you should surely give it a try on social media.
'Would You Rather' Polls are a great way to get conversations started. Through this, it's easy to get into fun and interesting conversations with your audience by asking "why" would they go for the selective option. This will help you build connections and learn a lot more about your followers, grow your online community, and also increase the engagement rate.
For eg. Make a habit of conducting polls on Instagram and Facebook stories, try posting static images by asking a question in the caption, use Twitter and LinkedIn polls, you can post polls on YouTube Community as well. Irrespective of any social media platform, polls can be leveraged to create engagement.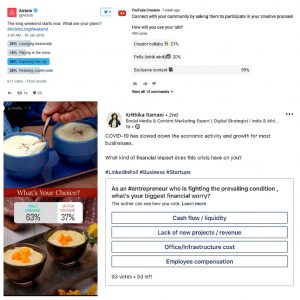 Works Best On: Instagram, Facebook, LinkedIn, Twitter, YouTube.
07. Contests & Giveaways
Contests and giveaways are excellent ways to get your brand some visibility. No matter whether the prize is big or small, consumers love free stuff!
Research shows that businesses' social media accounts that run contests on a regular basis are noted to grow 70% faster compared to others.
Here are a few reasons that'll explain why you should consider it as a strategy and how it'll benefit your business:
Contests help to expand your audience through providing brand exposure, helping you build your community, promoting brand awareness, and increasing followers.
To drive engagement, contests are essential. As more and more people like, comment, and share your posts, it'll create greater engagement.
Works Best On: Instagram, Facebook, Twitter, YouTube.
08. Motivational Quotes
It's okay to post a few 'Motivational Quotes' on your social media page apart from your product posts, and contests. Why so?
These kinds of posts are highly engaging as people love motivational quotes and even share them with others if they connect. But while posting such content, you make sure that you post witty and/or relatable quotes that are relevant to your brand and respective audiences; they are disguised as brand values and act as highly effective branding as well.
For eg. 'We Work' inspires their audience plus subtly tries to connect their audience with their company value (by making their audience aware of the company's working style).
The best part is that you can also share quotes from well-known industry experts, advice from you or the team members, testimonials, that are relevant to and resonate with your brand.
Works Best On: Instagram, Facebook, Twitter, LinkedIn, YouTube Community Section.
09. Q&A Sessions with Industry Experts
Start cross-promoting yourself! One of the best ways is to initiate a conversation with the people in your niche is through Q&A sessions with industry leaders.
Q&A sessions with industry leaders is an ideal post if you want to provide valuable information, tips and tricks and engage with your audience. It'll also be a great opportunity for you to answer the curiosity of your followers interested in exploring the market segment and attract new followers and gain brand recognition, too!
For eg. If you have a Q&A session with Jeff Bezos, the CEO, President, and Chairman of Amazon to discuss the eCommerce industry insights. Then, the audience, especially the eCommerce startup owners or who are planning to become one, job seekers in the eCommerce industry will be interested to participate in this conversation.
But, remember, choosing the right platform with the right flow of content is vital for the success of Q&A sessions.
Works Best On: Instagram, Facebook, YouTube, LinkedIn.
10. Relatable Memes
Nowadays, all over the internet and social media, Memes have acquired a huge amount of space. And why not? Who doesn't love fun content?
Try to use memes as a strategy to broaden your brand presence on social media. Posting memes can be most effective to engage with your community. It's not restricted to a specific kind of format or content meaning it can be any funny video, picture, carousel, etc. So, try to experiment with meme marketing because:
Memes incite shares. When people send a meme to a friend for a laugh, they express brand loyalty and act as advocate for your brand. It also helps to widen your brand reach.
Memes support brand relevance. They're often related to a current trend or an event that your viewers know about, so staying up with trends can help you produce fresh content. Memes also help to build a community.
But, make sure when creating memes, it should match your brand voice and reflect your audience's values. Also, remember to maintain brand consistency.
Works Best On: Instagram, Facebook, Twitter.
11. Company Achievements Posts
Got an award from a recognised industry organisation? Featured in a popular publication? Achieved your annual target? As a growing company, you're likely to have many milestones and successes that you're proud about. Let your audience know about your successes. Sharing these moments with your audience helps humanise your brand while showcasing your company's growth.
Your social media channels are a direct line to connect with your followers, hence a great way to showcase your achievements as a company. Thus, boosting your brand status.
For eg. 'HealthifyMe' dedicates a banner to highlight their achievements.

While doing so, remember to be a bit modest. A line or two about how proud you are of your accomplishment. Also, thank the publication in which you are mentioned. And don't forget to thank your customers because of whom you've been able to achieve your milestone.
Works Best On: Instagram, LinkedIn, Twitter.
12. Relevant & Topical Posts
Sometimes the best content ideas come to you unexpectedly and that is what we call – Trending Topics!
Staying on-trend and publishing topical content on your social media pages shows your followers and potential audience that your brand is on the ball, relevant, and clear (especially if you've managed to link the topical content to your business).
For eg. As an online travel portal, Ixigo perfectly connects the trending meme #TwoEyedPasta with its brand.
This kind of content can be a big payoff in terms of traffic (as it's fresh in the market and trending among the people, it'll help drive more traffic to your social media page) especially if you're quick to create and deliver content to your audience.
Keep in mind that the relevant and topical content can be an asset for your brand as it's current and "buzz-worthy". But it needs to be taken care of quickly as trends tend to have a shorter shelf life.
Works Best On: Instagram, Facebook, Twitter, YouTube.
13. Your Company's Blog Posts
Does your business publish blog posts? Then what's better than to share your company blogs on your own social media pages to get them seen by your followers.
How is it relevant?
One of the best things about your company blog is that they are as unique as your business. Depending on your brand and niche, you should use your blog for different purposes.
For eg. It could be an in-depth study about technical tutorials or news resources. No matter what kind of content you publish, you can use your company blogs to build a distinctive voice for your brand.
You might be surprised to learn that you can avail several benefits by having company blogs:
Drive traffic to your website by using relevant and related keywords.
Grow your audience i.e. increase your lead generation. Because, in reality, companies which post blogs regularly are more likely to get leads than those who don't.
Provide value to your customers. By producing high-quality content, you can keep your audience informed and entertained by communicating news and interesting information.
Increase brand transparency and build connections with the customers/clients.
Build thought leadership and company image in your field or niche.
Ensure that the content you're writing for your company blog is valuable and relevant to your audience.
Works Best On: Facebook, Twitter, LinkedIn.
14. Host A Live Ask Me Anything Session
There is no doubt that a "live" ask me anything session with your audience can be a simple yet compelling way to build active engagement.
An 'Ask Me Anything' sessions are a Q&A session between you and your audience where you get to share your knowledge, experiences, and insights. It represents an awesome opportunity to educate and engage with your followers. Through this, you get to show off your personal side and raise awareness for your brand without being pushy about it. Also, you'll learn more about the interests and concerns of your audience. This helps you:
Boost interaction with your audience. This is vital to build an active online presence and essential to build a loyal relationship between brands and their audiences.
Boost growth of your presence online which is essential to survive in the current market.
Works Best On: Instagram, Facebook, YouTube.
15. Conversational Podcasts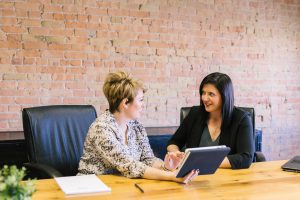 Unlike regular podcasts, in conversational podcasts, there are two hosts who have a straightforward conversation with each other on a specific topic.
For eg. In most cases, each host will play a specific role in the conversation. One might explain the news snippet and the other one does commentary on it. Or one might teach lessons while the other describes stories from their experience regarding a particular topic.
How is it beneficial?
In today's hectic world, people find it hard to read, instead, they opt for an audio version that they can listen to anywhere and anytime. So, podcasts bridge the gap between your content and audience.
Listening to conversational podcasts can make the users feel like they're part of the conversation and community (especially when the hosts maintain an entertaining, friendly environment).
Easy to listen to an organic conversation rather than a prepared script.
Works Best On: Instagram, Facebook, Twitter, LinkedIn, YouTube.
You can use a combination of these effective posts on your social media to get more engagement and followers.
Also, let us know in the comments, which idea did you like the most?